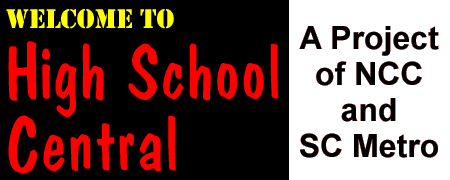 CLICK HERE for our NEW High School Central Site!
---
HIGH SCHOOL CENTRAL was created to be a cool gathering environment for high school
students. As we progress, you'll find everything you could possibly think of and more....


We've just added a brand-new TEEN CITY, new free teen classifieds, a guest book for you
to sign and browse...a new Teen Cafe and Hot Teen Stuff....and, if all goes well this September,
we'll also have the live HIGH SCHOOL CENTRAL web chat you've asked for! So be sure to
bookmark us and help spread the word about all our great new stuff!


HIGH SCHOOL CENTRAL will feature real fun stuff (chat, games, contests, projects to help people, teen journalism and way cool net links) as well as tuff subjects (dating, dealing with parents, prejudice, school and community violence prevention, drug and alcohol abuse, technology, ecology, college admissions)and even stuff about life in the year 2000.
There will be jammin' music news and hot entertainment links. A Teen Speak-out and offer ways to GET INVOLVED and make a difference.
We'll have a different featured high school, activity, personal home page, school paper or project each month and YOU can nominate a student or a teacher of the month. Just be sure to tell us why they are really cool!
But the way coolest thing about HIGH SCHOOL CENTRAL is YOU...so make sure you bookmark us and spread the word at school and among your friends.... If your school has a web page, ask your webmaster to add a link to us. And above all, email or snailmail us and let us know what's up with you!
---
Sponsorship Information
---
OUR SUMMER 1997 PICKS
Our Featured High School:
George Washington High School, New York City
Our Featured School Paper:
Kailua High School (Hawaii) Surfrider

Our Featured School District:
St.Paul, MN Public Schools

Our Featured Student Home Page
'LECTRONIC LAIR

Our Featured School Activity:
California High School Sports

Our Featured Overseas School:
DUTCH EDUCATION

Our Featured Cool Web Site:
(Surprise!)

---

---
TEACHER OF THE MONTH!
MR. CLOUSBY, music teacher
FRANKLIN H.S, Reisterstown, Baltimore County, Md.
is HS CENTRAL's 1st. Teacher of the Month
nominated by ERICA SAVADOW
Erica says Mr. Clousby is her "fave" teacher, "because he makes class lots of fun. I look forward to his class everyday. One day the class challenged him to be a totally different teacher the next day--- and he couldn't smile or make us laugh. Fortunately we won. Mr. Clousby could't help smiling and we caught him. He always makes us laugh with the faces he makes.

Mr. Clousby loves what he does and that makes a big difference. Also, since I am a ninth grader, I had an orientation. My mom and I decided to find out the classes I would have. When I got to his room, Mr. Clousby sat down with us and explained my schedule to me."
---
SUBMIT YOUR VOTE FOR STUDENT or TEACHER OF THE MONTH
Click Here - Tell us your choice & why!

---
GET INVOLVED
MAKE A DIFFERENCE
(Our Summer 1997 Suggestions) Check them all out

---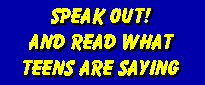 ---
COOL FUN STUFF
---
---
XTRA! XTRA!
Gayle Kimball, a Chico, California college professor, needs YOUR help for a really cool book she's writing with older teens giving advice to younger teens. What would you tell them to help them about drugs, dating, getting through school, dealing with peer pressure, parents, violence, prejudice?
Click here to send your answers and we'll forward them to Gayle for you!
---
ISSUES / ADVICE / HOMEWORK
COLLEGE INFORMATION
---
COMING IN SEPTEMBER-Click HERE for High School Central/Teen City Live Chat!


---
LOTS MORE COMING
Keep checking back...email us your choices for the students/teachers of the month and tell us what's up!
---
HIGH SCHOOL CENTRAL
Streetcats Foundation/SC Metro
267 Lester Avenue, Suite 104
Oakland, CA 94606
1-500-675-KIDS

Copyright 1996
Streetcats Foundation/SC Metro

Page created by Emergent Information Systems

Page editing by ByteLines

Page maintenance by Cynthia Craig