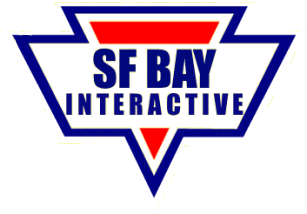 BAY

from
SAN FRANCISCO BAY INTERACTIVE
and
SC METRO


While there will be a lot of big New Year's Eve celebrations this December 31 to usher in the Millenium, like Barbra Streisand in Las Vegas and all kinds of other special events, AOL reports that over 40% of its members will be celebrating the big 2000 online!

If you want to find Mr. or Ms. Right, check out City Central Romance or Get-It Online's Love Central.

(Doesn't the Millenium really begin with 2001?)

Another great 'online' way to start 2000 is to shop online at a site where a portion of your purchases actually donate to help at-risk kids. Just visit Shop for Kids, where whatever you buy for yourself or as gifts to your friends and family from Amazon to CD Now, I Give to Charity Supports and I Help Support actually does some good for the young generation that is going to grow up in the 2000s!

And whatever you do for New Year's and on into 2000, make your Y2K everything it can possibly be!



CITY OF OAKLAND CHILDRENS FUND COMMITTEE
EXTREMELY HARMFUL TO CHILDREN--AGAIN!


By Don Fass


If you want a prime example of WHY so many American children are in such need, just take a look at many of those people deciding on the programs for children that both the City of Oakland funds (and doesn't) and that Oakland's largest corporate foundation, Clorox, cares about...or doesn't!

But something is rotten....and it's in Oakland, not Denmark. And it's not being caused by fringe, extremist right-wing religious conservatives. But by liberals, constantly patting themselves on the back about how much more liberal and enlightened they are than the guy next to them. Well, it reeks!

For the Bay Area's second largest city (at least until San Jose took top spot a few years back) Oakland is extremely backward, even backwater as we enter the millenium.

Consider that Oakland has the most developed digital infrastructure in the hi-tech Bay Area, yet its library system has little internet access, was the last major Bay Area library system to get it, started with 6 full-access computers in the main library (finally) and dropped down to 3 or 4.

The head of the Oakland Tech Cluster answers no letters about anything. Neither do at least 7 of the council members.

Consider the City has a 2-year-old Childrens Fund to utilize 'grassroots' groups to better childrens lives, but most of the City's City Council called the selection process 'deplorable' (but then approved it anyway), a 'distinguished' UC-Berkeley Childrens Studies director told us there were 'no good grass roots projects that deserved funding,' mostly mega 'children's businesses' like the multi-billion $ Oakland Childrens Hospital got funding.....and that was just some of year 1.

Year 2 started off with a grant application that warned 'if a children's group in Oakland was not already doing (business) with the City, they would "get NO priority" at all in selection (i.e.help and funding)...In other words, if you were already in bed with someone or some entity in the City government, you had an excellent chance of 'staying in bed' with them AND getting new silk sheets!

Voters there are so irate about the 'status quo' and those who have had the power, that the little Green Party, with few registered voters, roundly defeated ex-Mayor and mainstay of the power structure Elihu Harris in a shocker State Assembly election the end of March.

And a few months earlier, they elected former Governor and Presidential Candidate Jerry Brown to be their new Mayor...and in a separate election, gave the Mayor's office far more power to run the city.

He has started firing city administrators (except the City Manager who has been a part of the old programs and problems) and said publicly that he was looking over the shoulders of the other administrators and would give them their walking papers, too, if they didn't shape up.

Regrettably, the Mayor is largely occupied with reducing crime in Oakland, down over the past few years but still higher than many other Bay Area communities.

And even Jerry Brown hasn't gotten around to overseeing the Oakland Childrens Fund, bouncing those that deserve to be bounced and the $6 million fund they dole out to their friends and fat cat non-profits.

More than a year before Elihu Harris' political demise and Jerry Brown's 'We the People' ascension to the director's chair, in a referendum, Oakland citizens (a large amount of the nearly 400,000 disenfranchised, poor and minorities) ordered the City of Oakland to devote nearly $6 million of its budget each year to childrens programs.

A POC or committee to oversea those funds, issue grants (technically city bids and contracts) was put together to decide the distribution and programs funded, subject to City Council approval.

Card-carrying liberals, like Stan, who administers (but doesn't teach) at UC-Berkeley's Childrens Studies Program (and believes, he told us, that one of the primary things that are "wrong in this society is the distribution of wealth") and is a Children's Fund decision-maker, dismissed the uproar over the 'disgraceful' awards of the Fund's first year (detailed in almost every Bay Area daily and weekly newspaper), dismissed grass-roots groups efforts to know, hands-on, what Oakland children lack and really need and even dismissed the impact of this article on the internet ........

Clorox, headquartered in Oakland, with record profits and takeovers, three times refused a plan to fund a combined after-school teen center and central Oakland Childrens Resource Center. The all-volunteer project, which already had 100 computers and volunteers, asked Clorox for under $5000.
But the company's Foundation, (which has utilized office temporaries who come and go and have no interest) sent the little non-profit several rejections stating they "only fund childrens projects, in Oakland." (They are strictly a childrens organization, in Oakland!)

A midnite voice mail, the third time, got Joe Cole, then VP of Communications/ Marketing upset and embarassed. He promised and delivered a $1000 check, with the further promise of another $800 a few months later (tax-deductible cappucino money to Clorox).

But Cole departed as VP, Foundation Manager Pam Cooke asked the little non-profit to fill-out a 4th. lengthy application, then promptly rejected them again!

All this happened way before the tragedy at Columbine High School. But Clorox bleaches clothes and the Oakland Childrens Fund gives its 'partners' money.

Yet, Oakland, with a lot of good, dedicated people in it smells anything but sweet in helping its children to a safe, productive environment--particularly in those vital, after-school hours when everyone acknowledges that kids need mentoring and caring adults to replace empty homes..

And you wonder why there is so much grief for our youth in America.

Youth & Children News


---
BLACK SATURDAY AS HOUSE IMPEACHES PRESIDENT


By Don Fass


In a Saturday afternoon that will be recorded in history as one of the darkest days for the US Constitution and for America, right-wing Republican outlaws in a lame-duck Congress have succeeded in impeaching President Clinton, against the majority will of the American people.

Article 1 (perjury) and Article 3 (obstruction) passed by narrow partisan votes with only a handful of representatives of either party crossing the aisle in their votes. Articles 2 and 4 were defeated.

The Congress has assured that there will now be a full trial of the President in the US Senate, complete with detailed and salicious testimony by all the characters we've heard from over and over for the past year

They have also pretty much assured that for many more of the last months of this century, Congress will continue to turn a deaf ear to the urgent needs of Americans to fix our educational system, assure the safety and well-being of our children, combat poverty and homelessness, help all Americans to have adequate and affordable health care and continued social security.

Republican Speaker-Elect Livingston (as Speaker Gingrich before him) announced his resignation from the Speakership and Congress itself, after his exposure (and subsequent admission) as an adulterer.

But the supposed 'conscience-ridden' GOP continued to cling to their hypocritical notion that the immoral conduct of so many of its own members, including Judiaciary Chairman Henry Hyde, Speaker Gingrich, Speaker-Elect Livingston (and many more!) simply didn't matter. Even though they all have lied and either committed adultery or fraud or broken other laws, to them, their own lies don't matter...simply because many were not under oath when they did lie.

To these Republicans, with their clear hatred of President Clinton, long before there was a ''Lewinsky affair,' lieing is fine as long as it's not before a jury And to them, 'the rule of law' is most urgent....as long as it's not dealing with a Republican lack of ethics or morality.

To these Republicans, the majority will of the American people in 2 Presidential elections, the 1998 mid-term election and every news poll, simply does not matter.

Nor does the plea of Dick Gephardt and many others to stop the politics of hate and revenge and smear matter. Nor subjecting all of us, especially our children, to many more horrible months of 'who touched who and when'

All of these deeds were done without any testimony, save for the sole testimony of right-wing, Sciafe-financed Independent Prosecutor Kenneth Starr. Starr, unlike real prosecutors, himself has never interviewed a single witness! The Special Prosecutor himself is being investigated for several violations of law and ethics.

The repercussions of all of this, for all Americans and the future of the institution of the Presidency itself will be discussed here in more detail as events unfold.

But rallies we attended in San Francisco a few days before this Black Saturday unfortunately point to a further, heated division of Americans. In fact, demonstrations and counter-demonstrations (just the beginning) carry the very unfortunate omen that this attempt by Republicans to stage a hate-filled political coup against the Executive branch of government may divide and polarize Americans more than anything since the war in Vietnam!


---
---
SUMMER OF LOVE
Sunday, October 12, 45-55,000 people of all ages, many with flowers in their hair, celebrated the 30th.Anniversary of The Summer of Love. The all-day "love-in" took place at the Soccer Fields in Golden Gate Park, just 2 blocks from the Beach Chalet and the Pacific Ocean.
Wavy Gravy, '60's and anniversary celebration producer Chet Helms, members of the Jefferson Starship, including Paul Kantner, Rita Coolidge, Country Joe MacOonald and members of other '60's groups performed. Many left flowers at a traveling mini-version of the Vietnam Memorial.
Speakers from beat poets to Jello Biafra spoke of the continued fight for social justice and to protect the environment and of passing the fight to Generation X. The theme of the anniversary and the end jam was "renewal of compassion."
The vibes were mellow, Mannie the Hippie roamed the Soccer Field only getting recognized occasionally, and Ken Kesey's Further Fest and other hippie buses filled the parking lots along Great Highway at the Pacific. Dylan strains wafted out of more than one! The annual Fleet Week show by the Blue Angels, roaring over Golden Gate Park and the ocean offered an interesting counterpoint of sound to the love and peace music in the park.
The Airplane/Starship's "Volunteers of America" energized the thousands, many adorned in flowers, beads, kaftans, and peace medallions.
And the possibility was raised that the celebration might continue as an annual San Francisco event or at least celebrate future anniversaries.
While the Summer of Love was being celebrated in San Francisco October 12, the world of music sadly lost pop-folk star and songwriter John Denver. Denver's small plane crashed in the waters off of Monterey, 90 miles south of San Francisco, around the time the Summer of Love concert was closing with a Compassion Jam.
---
LAST YEAR'S TOP HEADLINES
A friend of a friend sent these real headlines to SF Interactive's Fred Flaxman and Fred sent them to me. Here's some memorable journalism from across the U.S. during this past year.


And the Year's Best REAL Headlines are...


- Include Your Children When Baking Cookies
- Something Went Wrong in Jet Crash, Expert Says
- Police Begin Campaign to Run Down Jaywalkers
- Safety Experts Say School Bus Passengers Should Be Belted
- Drunk Gets Nine Months in Violin Case
- Survivor of Siamese Twins Joins Parents
- Iraqi Head Seeks Arms
- Prostitutes Appeal to Pope
- Panda Mating Fails; Veterinarian Takes Over
- Lung Cancer in Women Mushrooms
- Eye Drops Off Shelf
- Enraged Cow Injures Farmer With Axe
- Miners Refuse to Work After Death
- Juvenile Court to Try Shooting Defendant
- Stolen Painting Found by Tree
- Two Sisters Reunited After 18 Years in Checkout Counter
- Killer Sentenced to Die for Second Time in 10 Years
- Never Withhold Herpes Infection from Loved One
- If Strike Isn't Settled Quickly, It May Last a While
- Cold Wave Linked to Temperatures
- Deer Kill 17,000
- Enfields Couple Slain; Police Suspect Homicide
- Red Tape Holds Up New Bridges
- Typhoon Rips Through Cemetery; Hundreds Dead
- Man Struck By Lightning Faces Battery Charge
- New Study of Obesity Looks for Larger Test Group
- Astronauts Take Blame for Gas in Spacecraft
- Kids Make Nutritious Snacks
- Chef Throws His Heart Into Helping Feed Needy
- Arson Suspect Held in Massachusetts Fire
- Ban On Soliciting Dead in Trotwood
- Local High School Dropouts Cut In Half
- New Vaccine May Contain Rabies
- Hospitals are Sued by 7 Foot Doctors



BEAR LAW IN TUCSON
In February, a woman was arrested in Tucson, put on probation for a year and given a large amount of community service to do....because she allegedly fed a bear Baskin-Robbins French Vanilla ice cream. The woman denied she did. We suspect the bear was behind the whole incident. He probably was upset when he didn't get his favorite Rocky Road, instead.

If you can't bear this Tucson story, here's another. Find out what our friend Ward in Tucson is doing with hair. Just click here!


DA MAYOR IN DA LINCOLN BEDROOM
Amid the latest supposed scandal in the White House--celebs paying to sleep in the Lincoln Bedroom at the White House...our own straightforward Willie Brown put things in fine perspective.

Da Mayor says he didn't pay. In fact, says San Francisco's finest, he helped himself to everything not nailed down...souvenir towels, ashtrays and more!

COMMISH GEOFFREY AND OFFICER GEE
There used to be a famous Municipal Court judge in Manhattan named Bruce Wright. A criminal judge, Wright was nicknamed &quotCut 'Em Loose Bruce." His detractors called him that for his controversial rulings setting loose alledgedly guilty people. He was very well-known in the Big Apple.
Oakland has its own judge of distinction. Geoffrey W. Carter is actually an Oakland Municipal Court Commissioner. And, in a way, he probably earns every penny of his undoubtedly overblown salary (that Oakland residents pay for) collecting fines for the City of Oakland...$200 fines for alledgely tossing a cigarette out of a car, $50 for crossing a corner at a light changing from green to red....
And no matter there's never any evidence. Geoffrey Carter isn't there to judge, only to fine.....(2 days in a row, EVERYONE was guilty!)
Sympathize with this great Oakland jurist. He sits there hearing police officer and defendent, time after time, tell their opposing stories. And no matter what the police officer says--including putting down wrong registrations for vehicles, telling fanciful, totally unbelievable jaywalking stories, the Commish says &quotGuilty...your fine is..."
You'd get more justice from Judge Judy or Judge Wapner. So what if Judge Judy mugs for the camera in LA or loses her cool. Not our Geoffrey. The "fine" judge is there to order (and eventually collect) on fines to pay for his salary. He couldn't care if there's evidence or if a police witness is unresponsive.
And the pattern is usually the same. An Oakland police officer gives a citation to a driver or a pedestrian who is always alone... so there is rarely, if ever, another witness. And no matter how much the Oakland cop has botched the citation, talks about invisable witnesses (for the officer) that aren't in court, The Commish orders a fine... $50 to $200 or more (and sometimes community service) to feed the city budget of Oakland.
While Oakland grows and bills itself (truthfully) as a city of &quotdiversity," jurists like Commish Geoffrey endlessly issue their &quotguilty, guilty, guilty." Our Commish would be better suited to being a meter maid or mister than wearing a judicial robe in Part 19 or any other court room.
&quotInnocent until PROVEN guilty?"
Are you kidding? That's NOT Geoffrey N. Carter's credo-at least not in Oakland Court Part 19. He's got loftier goals...as in &quotplease pay for my pension." If you aren't found guilty, how will they pay for his eventual retirement?
And as for police like Officer Rodney W. Gee, who will talk your ear off about what they told him &quotin Police Academy," while he spends 15 minutes writing your &quotcrossing the street on red" citation....and half a day in court, oblivious to stopping real crime and protecting citizens? Think about what it's costing you to have officers like that on your city's payroll or how it jeopardizes the many hard-working, life-risking cops who really are trying to keep us safe.
How about going BACK to The Academy, Rodney or better yet, busting some crack dealers that are still killing East and West Oakland kids, particularly in our minority communities Officer Rodney should care about more than being a municipal agent of The Fine Commish Carter.
Maybe officers like Gee should be meter maids or ticket cars in the parking lots of Stanford Shopping Center if he has no stomach for keeping our streets safe....
And, as for the Commish, who could easily be replaced by a talking computer, let him be ever known in Oakland as &quotGeoffrey Carter, Oakland's Fine-est---or as simply &quotThe Collector."
But be forwarned...While You're enjoying The New Oakland's diversity, its new Sears, tourist attractions like City Center, Jack London Square or even the new Shorenstein real estate, don't you dare stroll or ride by yourself, without a witness....
..... Or Geoffrey or Rodney Gee's &quotgonna get ya, sucker," whether you've committed an infraction or not....just for being out there in Oakland without a chaperone.
For info and sponsorship, e-mail ycn5@yahoo.com