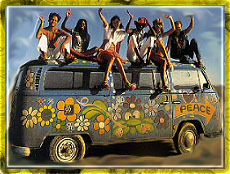 JIM MARSHALL
ROBERT ALTMAN GALLERY
(GODS OF MUSIC)
Jim Marshall and Robert Altman were the two photographers who
most captured the people, musicians and feel of the Summer of Love
with their cameras. These two sites feature striking photos to make the
whole mid-to-late '60's come alive.
Of all the artists associated with the Summer of Love, outside of those
who did most of the concert posters, Peter Max's colorful, happy
paintings stand out the most. Here are several he did for covers
of his photo and poster books
The Fillmore's Bill Graham was once their business manager and they
often got into trouble because of their political themes. Thirty years after
the Summer of Love, the Mime Troupe was still performing and spotlighting
changes needed in society. And many a San Franciscan is seen wearing
a Mime Troupe T-shirt.
QUICKSILVER MESSENGERSERVICE
JOHN CIPOLLINA
John Cipollina and Quicksilver Messenger Service were as much a part of
San Francisco's Summer of Love, the Haight and the Fillmore and Avalon
Ballrooms as the Dead and the Airplane. These 2 sites share their trip.
(Abbie, The Byrds "Eight Miles High," something Blowin' In The Wind,
Mario Savio, The Free Speech Movement and more are coming next )